Trent Moffett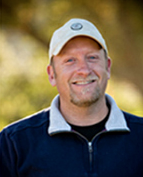 Growing up in Napa Valley, Trent Moffett is a second-generation vintner with an inherent passion for winemaking.  Trent grew up farming during his summers, winemaking, and fully learning the ins and outs of the family business.  Working his way through all aspects of winemaking and running a business.
Trent studied Agricultural Business at both Cal Poly and University of the Pacific, graduating in 1992. Upon graduating from UOP, Trent joined the family business at Livingston Vineyards working hand and hand with his parents John and Diane Livingston. In 1993 Trent produced his first wine called H.W. Helms, named after the original winemakers who had owned his family's land in the 1860's.  The Chardonnay, Merlot and Cabernet Sauvignon are still popular wines now made under the name C&T Cellars, named after he and his wife, Colleen.
Over the past 20 years Trent has had the privilege of working with some of the most talented and distinguished winemakers in the Napa Valley starting with Randy Dunn of Dunn Vineyards, John Kongsgaard, Marco Digiulio, Greg Graham of Rombauer and currently Jennifer Rue, as well as his own parents, Diane and John Livingston. In 2000, Trent travelled to New Zealand's South Island to work a harvest with Grant Taylor, one of the South Island's leading winemakers.
Trent currently produces three different labels, Moffett Vineyards, his heritage label that delivers classic limited production batches, Screenplay Wines, his spirited and cutting edge blends and C&T Cellars, his casual and accessible label.  In all ventures, Trent's breadth of knowledge and passion for winemaking show through in the craftsmanship of each bottle.
Drew Voit – Oregon
Drew spent the formative years of his winemaking career at Domaine Serene and Shea Wine Cellars where he worked with some of the best vineyard sites in the Willamette Valley. Harper Voit is the logical progression of that work: seeking out great vineyard sites, beautifully farmed fruit, and long-term relationships with growers. Drew also consults for a number of wineries in the Willamette Valley and operates a custom winemaking operation for small ultra-premium brands.
Jennifer Rue

Jennifer is a graduate of the University of California at San Diego where she earned her Bachelor of Science degree in Biology in 1993. While at college, Jennifer's home-brewed beer was a huge hit with her fellow students. During her year abroad studying in Madrid, Spain and subsequent travels through Europe the connection between wine, food and natural beauty planted the seeds for her future direction. With encouragement from her family of wine aficionados, Jennifer took the leap and moved to the Napa Valley 1995 to pursue her dream of winemaking. In fact, it was only then she heard the stories of her Father's winemaking adventures helping his Italian neighbors with their small winery growing up in San Gabriel.
With a solid foundation in plant and fermentation sciences, a life-long fascination with aroma and an adventurous palate, Jennifer excelled in the study of Enology and Winegrowing. She began her wine career at Franciscan Oakville Estate before moving with her mentor, Gary Brookman, to Miner Family Winery in 1998 where she worked for 11 vintages mastering her craft of winemaking.  With many successful, highly rated wines to her credit, Jennifer joined Trent Moffett in 2007 as winemaker. Jennifer's holistic winemaking philosophy and scientific approach is a good match with Trent's wide ranging wine knowledge, ease and flow. The Moffett and Screenplay wines reflect Jennifer's penchant for evolving compact, balanced and aromatically interesting wines.  Along with winemaking, Jennifer enjoys doing science experiments with her 5 yr old son, gardening and urban chicken farming..